I'm really disappointed that I didn't make it through the diabetes blogging week. Unfortunately, as it does - life got very busy and I found myself without time each day to make a post. I am hoping at some point to catch up, but again, life is busy and I don't know that I will be able to (that, and I don't want to say I will and then feel like I've failed if I don't manage to).
May was a busy month at work, but most importantly, I went on holiday! I spent 9 days in Split, a coastal town in Croatia. It was beautiful and hot and somewhere I'd definitely recommend - but maybe not for people with children as there didn't seem to be a great deal for children to do.
I went with a good friend of mine who is also type 1, Naomi - which made the holiday so much easier! It was great knowing that she understood and felt the same about things - worrying about where to keep test kits when we went to the beach, not getting sand in them, taking glucagon on our rafting trip, etc.
I'm not sure why my hair is so poofy
We ate out lots, and for the most part we dealt with the d pretty well. We met each other in the kitchen a few times at 3am due to hypos, and drank our way through litres and litres of Coke Zero. We had highs and lows and daily naps! We both agreed that we made great holiday buddies, so hopefully we'll do it again sometime (although not in the near future - Naomi's just been accepted to study Midwifery at King's College London, woo!)
The following photo is cool for many reasons: the backdrop is amazing, the water was so clear and we had fish swimming around our feet, but mostly the caption Naomi put with it on facebook - 'we may be on holiday, but diabetes still comes with us'.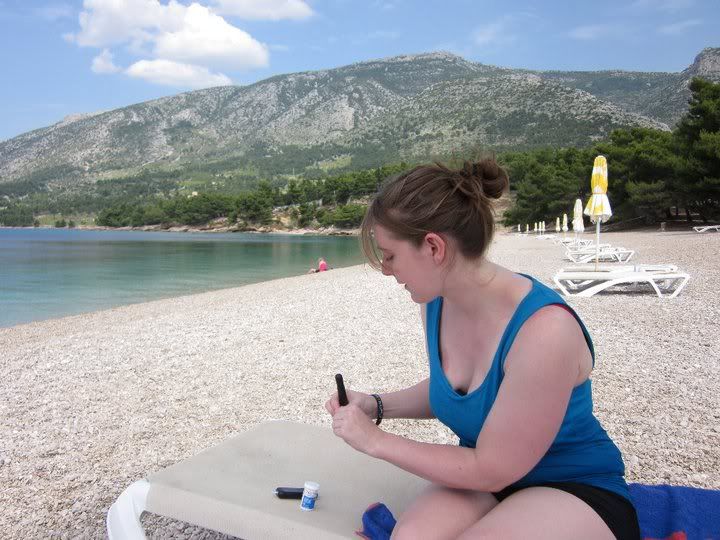 testing on the beach
We did some awesome stuff - swimming in the waterfalls at Krka National Park, rafting down the river Cetina (I can attest that Skittles still treat a hypo, even after being washed with river water and having all the colour stripped from them), visiting the most photographed beach in Croatia, and for the most part we just chilled!
We drank many many cocktails (which caused a few of those 3am hypos), got lovely tans and came back tired but feeling really relaxed.
I'm hoping to get transferred to a team in London soon and start seeing a consultant again. I've heard good things from a friend about a CGM friendly consultant, so I may explore that - with the news of the Animas Vibe finally getting its CE marking, I'll be upgraded to it - it has the Dexcom integrated into it. So I'm looking to be able to get access to Dexcom sensors (in my little dream world I'll get funding, in reality I'd just like to have access to one a few times a year to check up on how things are doing - but I can keep dreaming).