(a little shout out to Andrew who commented on my last post. I'm glad my blog is useful for you; please keep reading!)
Last week I went to Prague with my mum, nan and sister. It was absolutely fantastic; the snow was still knee-high and powder soft. We kept trying to make snowballs but we couldn't!! The photo below is in Prague Zoo, it's a picnic bench...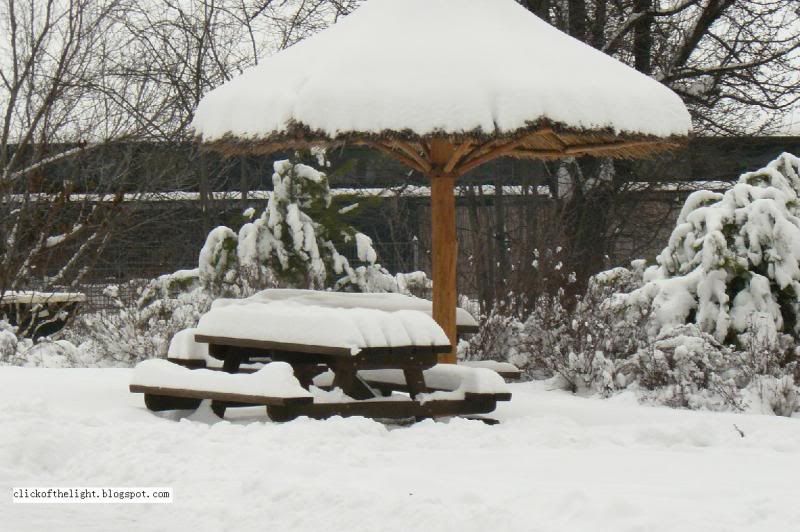 Overall my control was okay over the week. I kept my levels under 10 for, I would guess, 95% of the time; I had one low and a couple of highs, but that's an average week, I guess.

Today I've been mainly on the low side; 4.1 waking, 5.4 before lunch, but then dropped to 2.7 post-lunch. I'd taken a nap after our first aid course today (which was pretty good, all things considered) and was having a really vivid dream about being low...then I woke up to 2.7. Ugh. I guess just a miscalculation of carbs.

I have an appointment with the DSN next week (I was snowed in last time!! I thought it was pretty good that they got my appointment rebooked within the month though). Also a hair cut on the same day yay! Now to find some photos to take along with me so I can show him what I want...I haven't been to the hair salon before, I'm only going because it takes the
Salon Wish
voucher I've had for nearly a year. Which means a £36 haircut is only going to cost me £11. Sweet! I'll be heading back up to Birmingham for the DSN and the haircut (nowhere in Gloucestershire seems to take that voucher!)
I also managed to blow £95 (of christmas money and money I took to Prague but didn't spend) yesterday. No wait...I have £30 left, so I blew £65. I got some clothes and some presents for my dad's birthday. I hope he likes them! I can't afford to post them to him, so I'm going to take them back to Birmingham with me next Thurs and leave them there for him (it's on Feb 5th).

Work/life in the community is a bit pear shaped at the moment. I felt as though I left the school playground years ago, and yet I've discovered someone I thought was a good friend (and even wrote 'please consider me a friend' on a card she wrote to me and David a month after we moved here) has actually been bitching me and David out to our manager. Not even bitching us out as a couple - but saying very personal, and incorrect, things about us ('Siobhan isn't mature enough to realise she cannot spend 24 hours a day with David.' wtf?!) so I'm trying to deal with that the best I can.

I am off to Tesco in a few mins. Oh the joys.