Saturday saw me heading to London to meet a group of people with diabetes. I mentioned the meet in a previous post - it was a collaboration between Circle D and Diabetes Support Forums.
Over the course of the day, about 30 people came. I didn't get to speak to all of them, but I met some new people who were all great. That's what I like about diabetes (probably the only thing...) it gives you a common ground because of it. And because of that, I found that everyone got along together - we were a mixture of students, forensic scientists, actresses, support workers and more, and we all got along like a house on fire.
So: the meet itself! We met at Yates bar in Leicester Square, London. I arrived into Victoria coach station around 11, where I met 3 other people: Tez,
Tom
and
Alan
. We walked from Victoria to Leicester Square, which took us roughly 45 mins I think? We went past Buckingham Palace, which was rammed full of tourists. Tom found a test strip lying on the pavement as we walked along. We managed to only have 1 hypo between us on the walk, although I was wavering down in the 4s all morning.
Long story short: we got there, chatted to everyone, had food and drinks. Tom had very kindly brought a spare infusion set along with him so that I could try one out (he also had one for
Becky
). Observe: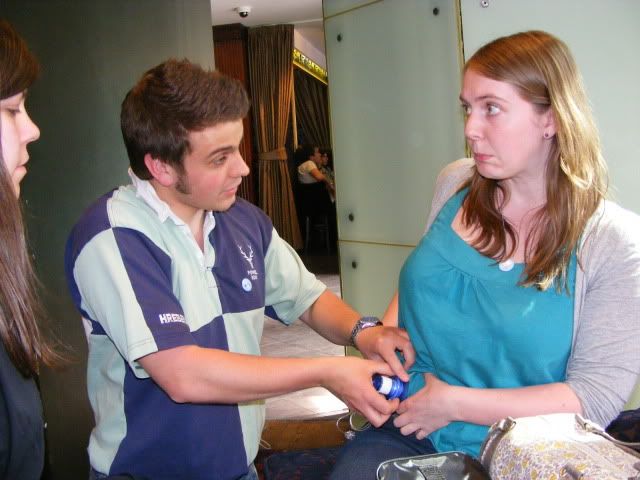 I have no idea why I'm pulling that face. It didn't hurt, and it hadn't been inserted by that point - in the photo are Becky, Tom and myself.
And this guys? This is why I so grateful to be part of the diabetes community. Where else would I get people offering to let me try an infusion set? My hospital certainly wouldn't! So thanks again to Tom for bringing that along.
The whole day left me feeling so relieved: I am not alone in this. I know this of course, but actually being with people was fantastic. We had a guy from Diabetes UK come along to chat about the
DiDkA
campaign - and we got to hype up the forum a bit to him, to let him know why it was so important to us.
I can't wait for the next one. I'm hoping to be able to host one in Birmingham at some point!